New behind-the-scenes photos from Aquaman show what certain scenes looked like before visual effects were added in. Aquaman is the latest film in the unofficially titled DC Extended Universe and stars Jason Momoa as Arthur Curry. The character Aquaman has gone on many adventures since the 1940s, but this film centered on Arthur stopping a war between the surface world and Atlantis while trying to reclaim the throne from his half brother King Orm.
For years, Aquaman had been at the butt end of jokes and was often considered to be one of the lamest DC superheroes, but all that changed when Momoa was cast as the character for Justice League. Aquaman's journey continued in 2018 with his solo adventure, which was highly praised for its stunning visual effects. Even though the film had its flaws, most people would agree that the visuals were among the best parts of the movie. While the film is currently in the midst of its box office run, new behind-the-scenes photos for Aquaman have been shared online.
For 5 months, our team of #previs and #postvis artists, led by #teamHalon sup Ryan McCoy, worked with director James Wan, the #vfx and #producing teams to bring the seven seas to life in #Aquaman. A few choice shots by our artists here. Learn more at https://t.co/CchJ5qeFGe pic.twitter.com/ft5KrxaIry

— HALON Entertainment (@halonprevis) January 9, 2019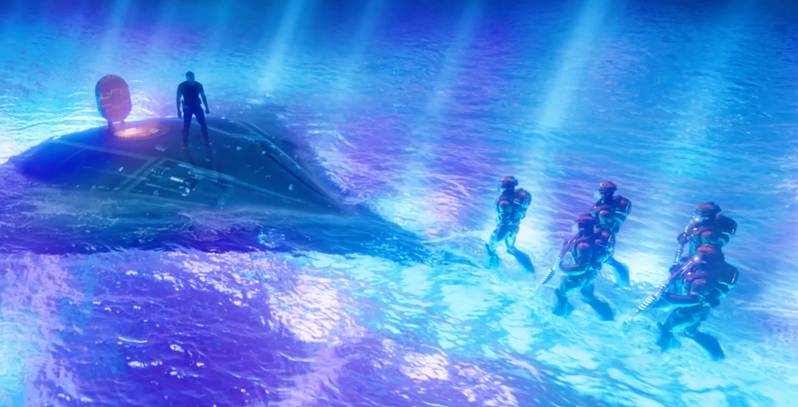 HALON Entertainment posted on Twitter to show fans what the movie looked like before loads of VFX were added to the shots. The company worked with Wan to create the visual effects for the film, which can be seen in different stages in development in the post below. The images include glimpses of the giant underwater battle sequence near the end of the film, as well as that kiss between Arthur and Mera, which was censored in foreign countries.
Since a good portion of Aquaman took place underwater, visual effects were a crucial element of the film. Most people would agree that the visual effects department achieved their goal of making Aquaman look realistic, and the striking visual effects are likely one of the main reasons why Aquaman has become such a huge box office success. At this point, Aquaman has even grown to become the highest grossing DCEU film at the global box office. While it is fascinating to see Aquaman's effects up on the big screen, seeing the behind-the-scenes work on films makes people appreciate all the hard work that goes into making a film look visually stunning.