Director James Wan criticized the Academy of Motion Picture Arts and Sciences for failing to recognize Aquaman's impressive CG work after it has failed to be included in this year's Oscars VFX shortlist.
Starring Jason Momoa, the latest DCEU movie introduces fans to the half-human/half-Atlantean hero, divided into two parts – on the surface world and the underwater world. The film was also tasked with introducing Atlantis, presenting technical challenges in bringing the underwater civilization to life.
Despite the obstacles, Wan and his team were able to succeed with Aquaman, which would explain why he's upset with the Academy for skipping in on Aquaman for the VFX shortlist. Among those who made the list include Ant-Man & The Wasp, Avengers: Infinity War, Black Panther, Jurassic World: Fallen Kingdom, Welcome to Marwen, Ready Player One, Christopher Robin, First Man, Solo: A Star Wars Story, and Mary Poppins Returns. And, while he doesn't seem to have any issues with other flicks that nabbed a spot in the shortlist, Wan feels very strongly that his film deserves its place in the selection as well.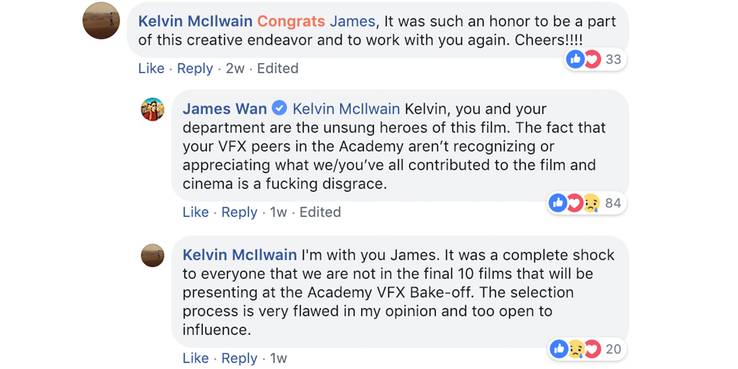 On his official Facebook account, Wan posted a short message in light of the release of Aquaman. Since then, people have been flocking to his page to send congratulatory messages, and one of the latest came from visual effects supervisor for the film Kelvin McIlwain, who congratulated the director for a job well done (the pair previously worked on 2015's Furious 7). Wan then responded to the message by calling McIlwain and his team the "unsung heroes" of the project and saying that it's a "disgrace" that their peers in the Academy aren't recognizing that.
Wan and his team have every right to feel frustrated by not being recognized by the Academy for VFX shortlist considering what they were able to achieve in Aquaman. At this point, everyone outside of the committee who had a hand in the shortlist can only speculate what went down behind closed doors that resulted in the top 10 movies that made the selection, leaving out Aquaman.
That said, while recognition from the Academy and industry people would mean a lot for those who tirelessly worked on the project, Wan, McIlwain, and everyone involved in the movie can celebrate its success all over the world. The film is currently tracking to be one of the most successful films in the DCEU thus far with a haul of over $822 million – and it's still growing.