One of the reasons Fantastic Beasts: The Crimes of Grindelwald is so highly anticipated is the prospect of seeing a younger Dumbledore played by Jude Law. Well, that and the fact that it's part of a spin-off from the most beloved children's fantasy series ever. And while we've been gifted with a few great shots of Dumbledore lounging in a dapper, tailored suit, one of the most important aspects of Dumbledore's youth has been largely left out: his sexuality.
ADVERTISEMENT
In the second film of the Fantastic Beasts franchise, the Wizarding World lore will dive deep into Dumbledore's backstory and his conflicted relationship with the series' Big Bad, Grindelwald (Johnny Depp). But it seems like Fantastic Beasts is playing the long game: in Fantastic Beasts 2 Dumbledore and Grindelwald will share no scenes together.
In an interview with Entertainment Weekly, Law was asked about Dumbledore's relationship with Grindelwald and what it was like working with Johnny Depp, who portrays the villain. "I don't actually have any scenes with Johnny," said Law. "As I said before, this is only Part 2 of a longer story. I've always admired him from afar, but we don't know each other, and I've not yet met him on this. In many ways that suits the relationship as it's been many years since they've seen each other. So there's complexity in that that's fun to mine."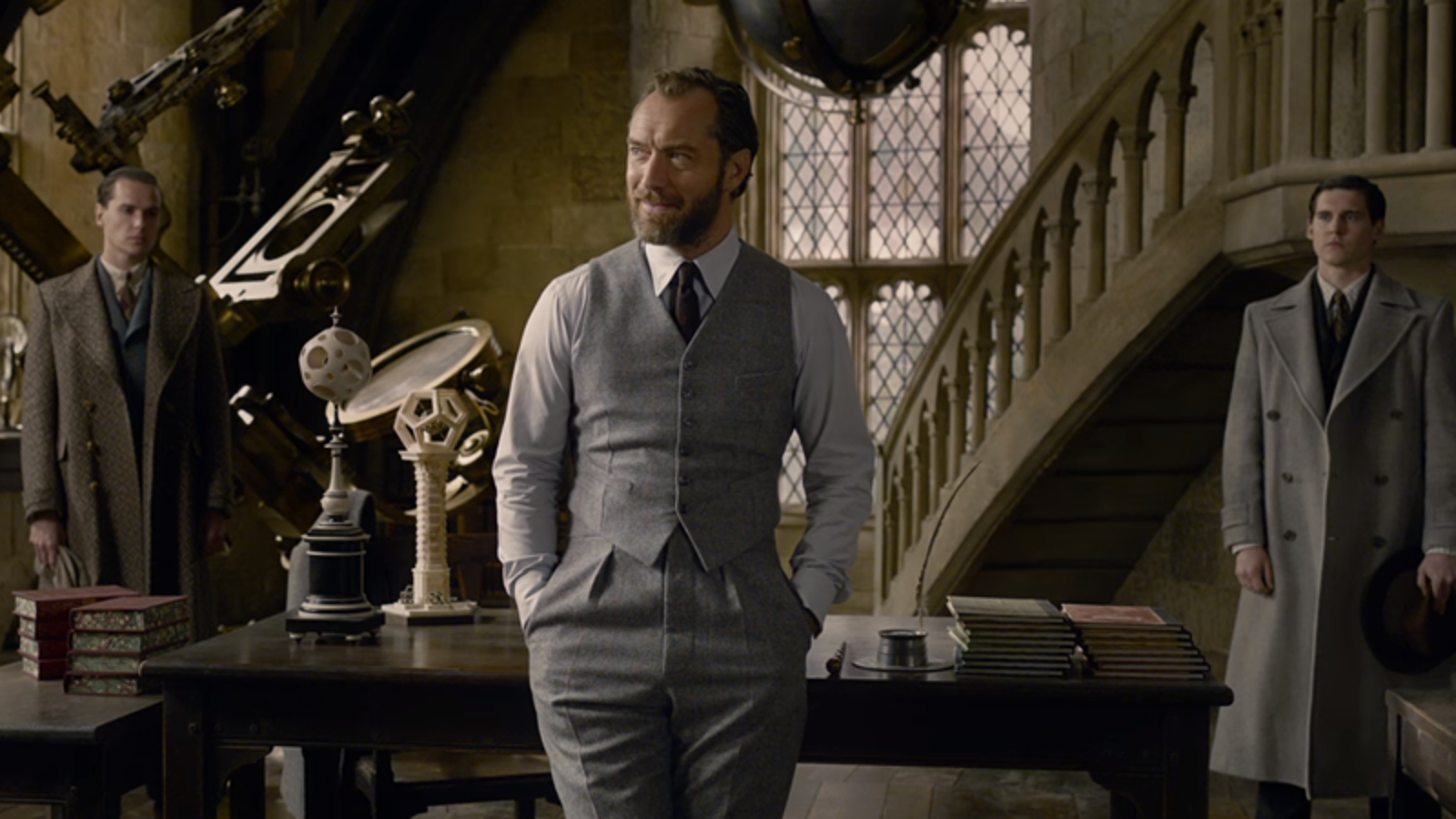 Many fans had assumed that delving into Dumbledore's past meant Fantastic Beasts: The Crimes of Grindelwald would finally be the Potter film to explore the Hogwarts headmaster's sexuality; though J.K. Rowling revealed in 2007 that Dumbledore was gay, that was never addressed in any of the books or their film adaptations. Since the revelation, Potterheads have speculated that the relationship between Dumbledore and Grindelwald, who were best friends as teenagers and young adults before clashing in a legendary 1945 duel, went far beyond platonic friendship.
When director David Yates confirmed Dumbledore wasn't portrayed as explicitly gay in The Crimes of Grindelwald, some fans expressed their disappointment, but now it seems clear why this specific film won't shed light on that aspect of their relationship.
"What you got to remember this is only the second Fantastic Beasts film in a series and what's brilliant about Jo's writing is how she reveals her characters, peels them to the heart over time," said Law to EW. "You're just getting to know Albus in this film, and there's obviously a lot more to come. We learn a little about his past in the beginning of this film, and characters and their relationships will unfold naturally which I'm excited to reveal. But we're not going to reveal everything all at once."
Fantastic Beasts: The Crimes of Grindelwald opens in theaters on November 16.
Source: EW